Our approach to the quality
Quality policy
Yamato Chemical Co., Ltd. is committed to making continuous improvement to ensure that the quality management system works effectively. The company establishes a system to supply high-quality, low-priced products that win the trust of customers. The basic policy is to achieve social contribution through our permanent development.
Our environmental initiatives
Environmental policy
Corporate philosophy
As a manufacturer of industrial rubber parts and plastic parts, Yamato Chemical Co., Ltd. recognizes that environmental conservation is the most important management priority. All employees make a concrete effort to reduce environmental load and conserve the environment to make a contribution to sustainable, recycling society.
Basic policy
1.Yamato Chemical is committed to complying with legal requirements of environment-related laws applicable to the company and other requirements on which the company has agreed.
2.Yamato Chemical is committed to pollution prevention during normal times and emergency situations.
3.Yamato Chemical sets environmental objectives and goals to promote subsequent environmental improvement activities by setting up a framework for re-examination, as well as to make continuous improvement of the environmental management system.
①Yamato Chemical promotes energy-saving and resource-saving activities to strive for environmental conservation.
②Yamato Chemical eliminates wasteful stocks to reduce costs.
③Yamato Chemical reduces defects to strive for the reduction of waste.
4.This environmental policy shall be thoroughly implemented within the company and widely published to outside of the company to work corporately. We recognize the relationship between biodiversity and our business to promote initiatives to pass down rich natural environment to future generations.
July 1, 2013
YAMATO CHEMICAL CO ., LTD
Mr. Nakamura Hidehiro
What we can do to maintain beautiful earth.
Yamato Chemical obtained the Environmental Management System (Eco Stage) in 2013 to commit to the activities to care about resources and ensure eco-friendly plants.
Starting 2017, our approach has expanded to the Eco Stage: Stage Two to participate in the 5S activities and reduce paper, waste and the use of electricity, as well as the reduction of CO2 emission and disaster preparedness.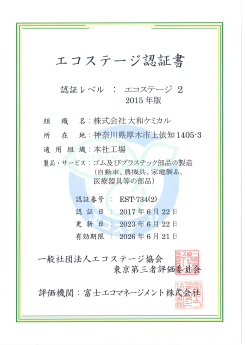 Cases of environmental conservation activities
・Company cars have switched to eco cars.
One green diesel car and two hybrid cars.
・Setting up smoke removal equipment
While we ensure plant operations in compliance with the air pollution control, as part of our initiative to make the plant environment cleaner, we newly set up smoke removal equipment.
・Electricity-saving activities
As part of electricity-saving activities, we introduced lights-out during breaks and temperature control of air-conditioning systems, as well as changing fluorescent lamps to LED lighting within plants, motion-activated lights, and energy-saving air-conditioning systems.
・Beautification activities
We promote activities for 5S patrols on the premises and cleaning of public roads adjacent to the plants.
・CO2 reduction activities
We set up solar panels in the plant area and on the roofs of warehouses. We are promoting environmental conservation activities by making use of sunlight.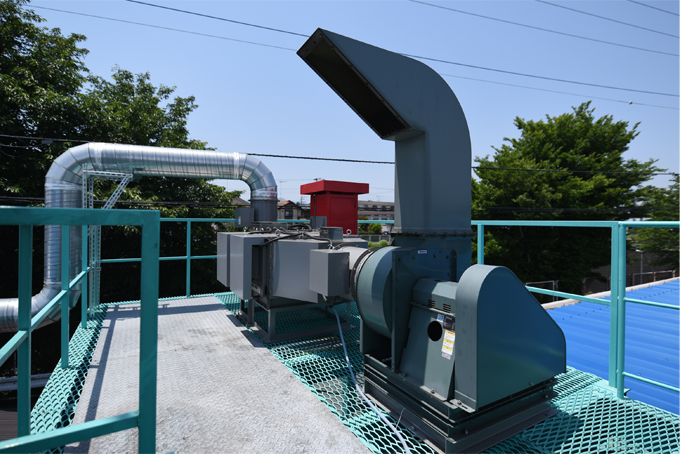 smoke removal equipment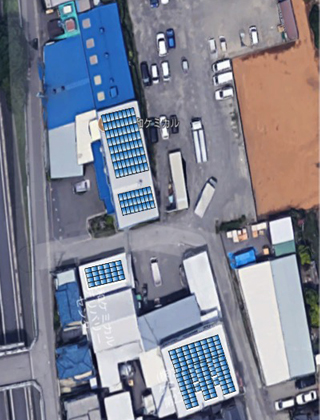 solar panel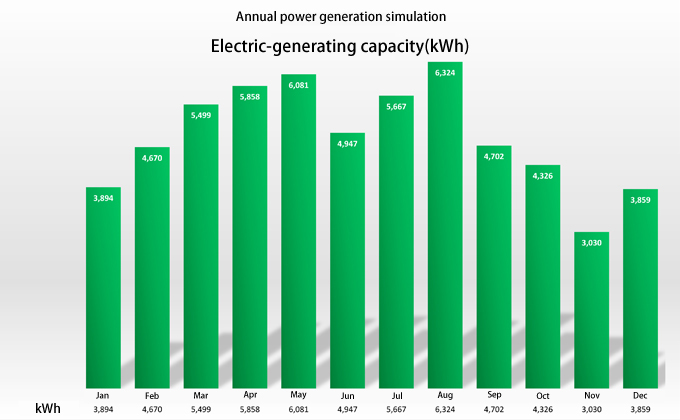 Annual forecasted power generation : 59356.04kWh
Conversion of CO2reduction amount
CO2 reduction equivalent to 2,800 Buna tree